Here is the first chapter of an unfinished, unsubmitted and completely un-edited story I was working on last year. It has been put aside so I could work on the current series, the first book of which has been accepted by Liquid Silver.
Lisell is the daughter of a well to do merchant in the capital city in the Empire of Helta, a mythical pre-industrial empire loosely based on Rome, but the people are more Germanic than Latin. Helta has been conquering what they consider barbarian lands, like the desert kingdom of Erabir for hundreds of years. As is the custom in Thess, her parents are throwing a coming of age ball to mark her 21st birthday. She is practically engaged to her father's partner, Edvart Braun. Lisell is okay with marrying Edvart, but she would like to have a little adventure first. Feel free to comment. Enjoy!
* * * * * *
It was probably her composure that saved her life that night when the man who told her to call him Mate stepped through her bedroom window. Lisell had been sleeping for about an hour when she was gradually roused by a racket in the street below. The sound of marching boots and fists hammering on doors came clearly through the window she had left open so the night air could cool her room. It sounded like a search was going on—an unsuccessful one. The sounds went from one house in the square to the next, pounding on doors and demanding in the name of the Emperor to be admitted to search the premises. Disturbed, Lisell sat up in bed and reached to light the lamp on her bedside table.
But she hesitated when a shadow shifted at the heavy draperies at her window, and a slight whisper of sound came to her. She didn't scream or even gasp when she realized the shadow was of a man, and she saw light gleam briefly along the blade of the naked sword he carried. She watched, perfectly still, as the dim figure drifted soundlessly across the room to the door. He paused as a series of thunderous knocks rattled the front door.
Lisell wondered what he looked like. Who was he? A burglar? Or worse. The Imperial Guard wouldn't be chasing a burglar; that would be left to the City Watch.
"Out of our way, oaf!" shouted a searcher downstairs. "By writ of His Imperial Majesty we have leave to search this house."
The quavering voice of their butler was frightened. "But, Sir, what are you looking for?"
"Move, old man! We're hot on the heels of a criminal. Woe to the one who lets him escape."
The dark figure at her door suddenly jerked around. It was hard to tell in the dark, but she thought he was looking around. Surely he couldn't have seen her in the dark, but he lunged suddenly for the bed. Of course, that was the logical place for someone to be at night in a bedroom. Thank all the gods that his sword was at his side instead of held out in front of him or he would have killed her.
"Don't hurt me!" she said quietly, calmly. "I promise I won't give you away."
In the dark his face was only a pale blur between his dark clothes and his dark head covering. His hand was a whisper of white against his dark clothes when he reached out to cup her cheek. "I'll never hurt you, I swear it."
Heavy footsteps raced up the stairs and along the hall to her bedroom. The man looked sharply around the room. "Hide me," he demanded. "Where can I hide?"
Lisell's placid calm did not fail her. Rapidly she considered and rejected the obvious places: behind the curtains, under the bed, in the closet. Careful to avoid his sword, she hopped out of bed and went to the toy chest she had emptied of her childhood toys just that afternoon. She lifted the lid.
"Hurry," she ordered steadily. "Get in."
He didn't hesitate. Being slim, he was able to fold himself tightly enough to fit. But his sword didn't. Reluctantly, he gave it to her. "Be careful. It's very sharp. I'm trusting you."
She nodded, which he probably couldn't see in the dark, and shut and locked the box. She draped a robe over the box and tossed some of her stuffed animals on top and wrapped the sword in a towel. Then she hurried to the bed and leaped in just as the door began to open. She shoved the sword under the covers along her leg and squeaked when the sharp blade went through the mattress with sharp slicing sound.
Luckily a squeak was perfectly acceptable from a young woman being woken in the dead of night by strange armed men bursting into her bedroom. Lisell had no trouble appearing confused and frightened in the sudden glow of the lamp the soldiers held high as they tramped into her room. Her father rushed in behind them, his scant graying blond hair ruffled with outrage.
"This is my daughter's room!" he protested. "She's tender young lady of virtue and no man should be in this room but me, her father!"
Lisell played to his lead and cowered down with the sheet pulled up to her chin. She even tried for some tears. "Wha–? Papa, what is happening?"
"There, there, child, don't be alarmed. These men are looking for a dangerous criminal."
"In here?" Lisell's voice had exactly the right mix of fear and amazement.
Her father turned back to the soldiers. "As you can see, my daughter's room is empty."
The soldiers were not satisfied. They looked under the bed, tore her clothes out of the closet, even kicked the toy chest. Lisell hoped they didn't ask her to get out of her bed. If they found the sword…
But no, they left soon afterward to search other rooms, and finally left the house. Her mother tottered in shortly after that, and sat on her bed sobbing. The soldiers had torn the sewing room apart, and the beautiful gown that was being made for the ball had been damaged. The party would be ruined, her mother wailed. Her lovely daughter would never find a good husband without the proper dress. What would people think if they didn't have the perfect dress?
During this rant Lisell wondered if the man had enough air in the trunk. It took Lisell nearly a half hour to sooth her mother and send her back to her own bed, but she had been soothing her mother's jitters for years, so she knew just how to do it.
The man had been locked in the cramped toy chest for over an hour before she was able to let him out. He must have been stiff, but he stood lithely enough and stretched a bit before stepping out of the box as if he had been reclining in a comfortable chair. She wished she could see him, but she didn't want to light the lamp for fear of attracting attention. She had to peer hard into the gloom to see him at all, and even then he remained a blur.
"I believe," she said composedly, "there are still guards in the street looking for you. It would surely not be wise for you to leave yet."
His teeth glowed momentarily in the dark as he grinned. "You're a cool one," he remarked with admiration. "Where's my sword?"
Lisell turned to carefully pull it out of the bedclothes and let the shredded towel fall away. She cautiously handed it to him hilt first. It was probably a beautiful weapon, the thing sort of thing that a man would cherish. She had never touched a sword before, and it was heavier than she had expected. She wondered, briefly and uneasily, if he had ever killed anyone with it.
He sheathed it quietly and stepped closer. Too close. "So what's my guardian angel's name?" he asked half mockingly.
Lisell took a step back, but he followed. "What's yours?"
"Oh, I've got lots of names. I'd like you to call me Mate. Now how about you? What's your name?"
Mate? Was that really a name? She didn't think so. It was sort of like a slang term for calling someone Buddy or Friend, wasn't it? But what did it matter? She would never have any conversation with him after tonight. "My name is Lisell."
"Lisell. Very pretty. But to me you'll always be my guardian angel. Wanna know why they were after me?"
"Not in the least," she answered primly.
He chucked. "A woman who knows her mind." His hands grazed the sides of her face, seeking out her braid to loosen it. "I like that. Brave and sensible. Tell me, are you beautiful too?"
"No, barely passable." She tried to step back again, but he had crowded her against the bed post. His hands were deft in her braid.
"Brave, sensible and modest! A pity we can't light the lamp. But your scent is sweet, and you feel soft and rounded in all the right places. Tell me, are you old enough to marry?"
Even placid Lisell was startled by that, so startled that she stopped trying to edge away, leaving his fingers free rein in her braid. "I—I guess so. At least, I will be in a week."
"Splendid." He pushed himself against her, startling her again with the heat of his body. "Let's run away together."
Lisell recovered and slid away from the weight of his body pushing her against the bed post, removing her unraveling braid from his hand. "No, thank you," she replied politely.
"And witty!' he laughed again. And the sound of his laugh made her insides shift. "Really, I do believe I'll have to return in the daylight to court you."
"I've told you I'm not pretty," she said dampeningly.
The voice of the man who told her to call him Mate was flatly sincere. "The minute I walked into this room and you hid me in that box you became the most beautiful woman in the world. I plan to get to know you better."
"That could be difficult," commented Lisell dryly, "considering that you are a wanted criminal."
"But I'm not," he protested innocently.
"Really," she murmured in polite disbelief. Now that he wasn't crowding her she missed the feel of him. Her boredom had vanished. She felt more alive than she ever had before. "Has anyone told that to the Imperial Guard?"
"They have no sense of humor. The whole thing started when the Minister of War found me going through his papers."
"And he took offence at that?" she guessed.
"He's a narrow minded man," he explained, off hand. "I didn't really feel like chatting with him, so I slipped out his window."
"And in mine."
Mate smiled, a quick slash of white. "It was open. So handy, you see."
He reached out and closed his hands over her shoulders and pulled her hard against him. Her nightgown was thin and she could feel his belt buckle biting into her belly. His hands smoothed up and down her back, playing in her loosened hair. It was a novel feeling, to be so close to someone. Her body tingled between her legs. She was innocent, but not stupid. However deliciously exciting this was, it was wrong. But when she tried to push him away, he merely wrapped his arms around her and squeezed her hard against him.
"I don't want to frighten you, but I have to feel you. You are mine," he whispered.
"You don't frighten me,' she said steadily.
"So your heart is pumping so hard because your body drips with passion for me?"
She made her voice cold. "I'm a respectable girl. A lady. Not a strumpet."
His breath was hot on her shoulder when he bent and leaned his cheek against the side of her neck. "So I'll try to be a gentleman. For you. Only for you, angel. How old are you?"
"A gentleman does not ask a lady her age." She made her voice just like Madam Groot's, the school mistress, when one of the girls had said something truly rude.
It seemed he was reluctant to let her go, but his arms fell, and he stepped back. "You are a lady, but you seem young to me. Too young to worry about becoming decrepit. How old are you, angel?"
"I'll be twenty one next week."
"Your parents are having a party?"
Lisell supposed he had heard her mother speak of it while he had been in the box. "Yes, next Friday night we're having a ball to introduce me to society."
"Society? Or prospective husbands?
She couldn't sure but she thought he sounded intense. Jealous? But it was hard to be sure, because his voice had been faintly shadowed with a foreign accent. She hadn't noticed it before. She had thought he was Heltan, but what she had first taken for a dark head covering was just his hair. No full blooded Heltan had dark hair.
"Both," she replied. "Although it's a waste of time. I'll marry Edvart Braun."
"Edvart Braun." There was a hint of a snarl in his voice. "Do you want to marry Edvart Braun? Do you love him?"
She shrugged. "I like him. He's a good man. My father would be pleased. Edvart is his partner. He's a steady man with a kind heart."
"He sounds boring. Don't marry him. Run away with me tonight."
"What? And miss my ball?" asked Lisell in exaggerated horror.
A low chuckle rippled out of him. "I've never been turned down for a
party before."
"Oh? And I suppose you run away with women all the time?"
"Hardly ever. I can't seem to find a woman willing to go away with me. They always turn me down. The ladies just don't take me seriously."
"What a shame," Lisell sympathized. "You don't suppose it has anything to do with the fact that you're not serious, do you?"
"I am serious!" he protested. "This time. You're the woman for me. Climb out the window with me now. I swear I'll take good care of you."
"Well, I certainly appreciate the invitation. But I simply can't miss my party. My parents have invited everyone, from the Emperor to foreign ambassadors. Why, if the Princes from Erabir come it will be the party of the season." She spoke lightly. "Surely you can see that I can't miss it."
"My feelings are hurt, Angel. You must be the daughter of a duke at least. And I am not invited to your party?""
Lisell sighed. "Actually, my father is a merchant who has done very well in negotiating trading contracts with rich colonies like New Helta and the Hills. But my mother likes to think that we can advance socially through marriage. My marriage. She would probably like to offer me to the Imperial Harem. Luckily even she can see that I'm not pretty enough for that."
"Angel, you'd be wasted in a harem. You're too special to be buried with a lot of other women at the whim of one man. You deserve to be a princess at least, not a neglected imperial concubine. What do you think of one of them Erabiri princes? One of them would make you a good husband. Not as boring as good old Edvart, anyway."
"That wouldn't work at all. They are far too bloodthirsty. In the unlikely event that they actually come to my ball I'd be too nervous to even speak to them. Besides, they live in the wilderness across the
ocean. I'd miss home."
"Well, scratch them, then," sighed Mate regretfully. He lifted his head and smoothed back his dark hair. "But that means you can still change your mind and run away with me."
"I'm afraid not."
"Darn. Can't blame a man for trying." His blurred profile turned towards the window and back to her. "Well, it ought to be safe now to leave, although I hate the idea of going away from my Angel. One last chance: will you come away with me?"
"Sorry."
She followed him to the window, feeling strangely reluctant to say good bye to a criminal. He had certainly been entertaining. And even that inappropriate embrace had been… interesting. Maybe it should have frightened her, but really it had only made her want more.
"Answer one question for me," he ordered.
Surprised by this sudden seriousness, she nodded.
"Are you a virgin?"
For once her usual composure deserted her. "I beg your pardon!"
"It's important. I need to know how fast I can go with you."
"I'm not going anywhere with you."
"My, my, Angel, you sound alarmed."
"I'm not alarmed. I'm angry. Maybe you think that because I've flirted more than I should have that you have the right to insult me– You should leave now."
"I'll leave. And I don't mean to insult you. Obviously you are a virgin. I'm glad. That makes it easier for me to be a gentleman. But I want a
good night kiss. Please."
"That's not a good idea," she said stiffly.
At least, that's what she started to say. But somehow she found herself in his arms, crushed to his chest with his mouth hot and open on hers. She tried to pull back, but his kiss changed, became gentle and coaxing. She felt his tongue glide into her mouth, like hot wet velvet stroking over her tongue. Really, it was the most amazing thing she had ever experienced. The gentle warmth that she had been feeling between her legs ever since he had embraced her earlier bloomed into a raging fire. She wasn't sure if the thrust of his lower body against hers was putting out the fire or adding fuel to it. When he finally let her go she staggered and would have fallen if he hadn't steadied her.
"You won't forget me," he said smugly.
He let her go and swung one leg over the window frame. It was slightly lighter here, and she could see that he wasn't smiling, his eyes dark pits of shadow in a pale beardless face. But she couldn't make out his features. "Be well, Angel. I will never forget what you did for me tonight."
She swallowed. "Good bye, Mate. Be careful going down."
Now his white grin flashed. "I'm not going down. I'm going up."
She watched as he slid silently out the window. Lisell wished she could hang out the window to watch him climb, but she didn't dare. Instead she went back to bed and pulled the covers high. While brushing her hair tonight she had wished for some excitement in her drab life. Mate, with his light hearted banter edged with romantic daring and hot embraces, had supplied that. A life time with Edvart Braun now looked depressingly flat.
If a person buys a book from a legal source like FictionWise, Amazon, Barnes & Noble, a publisher's site, etc, and makes a copy of his/her own use, that's fine. Sometimes a person purchases a book in one format and needs to convert it to one that will work on his/her reading device. It's all good. I, personally, am even okay with emailing a copy to a friend. But emailing copies to several friends? NO. Loading a copy to a site on the internet? DOUBLE NO. I don't know too many authors who write strictly for the fun of it. We may love to write our stories, but we need to make a living too.
Here's a place where the blogger calls out pirates and educates the public about piracy.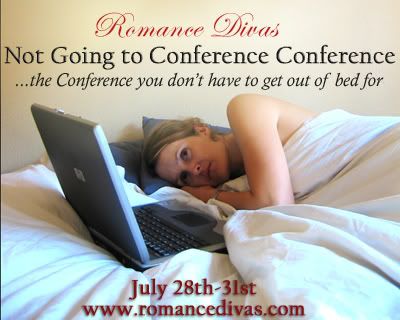 Not forking out the dough for the RWA Conference this year, with evening wear, suits, high heels and whatever "business casual" means?
Not to worry! Romance Divas is hosting the
Not Going to Conference Conference…
The Conference You Don't Have to Get Out of Bed For!
From July 28-31, come hang out with some terrific, savvy authors — and you don't even have to brush your teeth (although, seriously, good dental hygiene gets you extra points.)
We'll be hosting panels on:
The Power of Three: A crit group tell-all (Paranormal)
The Lolitas of STEAMED! Present Writing the Steampunk Romance -more than leather corsets and brass goggles!
Whips, Chains, Slings, Oh My: It Really Isn't About the Toys (BDSM Erotica)
The Great Big YA Panel
Register for free at Romance Divas, then come join us on the forums for the discussions, as well as some terrific prizes:
Eden Bradley/Eve Berlin:
1) erotic e-books, THE SEEKING KISS and TEMPT ME TWICE.
2) a synopsis critique in any sub-genre of erotica/erotic romance.
Jax Cassidy:
1) erotic e-books, DEVIL'S HEART and BRUSH STROKES.
2) book cover design or banner ad
Kristen Painter:
copy of her e-book, ALL FIRED UP
Rhonda Stapleton:
1) STUPID CUPID YA Book trilogy
2) a proposal critique (1st 3 chapters and synopsis) for any genre of book, romance or not
K.B. Alan:
1) The choice of one of her e-books: PERFECT FORMATION, ALPHA TURNED or BOUND BY SUNLIGHT.
2) A $25 Barnes and Noble gift card.
Robin L. Rotham: Signed copies of BIG TEMPTATION, ALIEN OVERNIGHT, and ENEMY OVERNIGHT
AJ Chase: copies of e-book CAT AND MOUSE
Inez Kelley:
1) e-book package of both MYLA BY MOONLIGHT and SALOME AT SUNRISE
2) The complete Dirty Laundry Series (3 e-novellas) co-written by Ginny Glass aka Wordsugar and Inez Kelley
Kate Pearce:
1) a three chapter ~and~ synopsis critique-any erotic romance, paranormal romance or historical romance.
2) Winners choice, in either print or e-book format (if available), of a set of the Simply series (there are 5) ~or~ a set of the Cowboys (there are 3) ~or~ a copy of KISS OF THE ROSE-readers choice.
R.G. Alexander:
Winners choice of any two e-books from her Samhain or Ellora's Cave back list
Nadia Lee:
Critique of 1st chapter & synopsis-paranormal or contemporary romance
Shelley Munro: Winners choice of any one her backlist books from Ellora's Cave or Cerridwen Press
Ciar Cullen: Winner's choice of any one e-book on her website.
Voirey Linger: A copy of her e-book RISKING ETERNITY
RF Long:
1) a submission package critique (letter, synopsis and 3 chapters)
2) e-books! (details TBA)
Crystal Jordan:
1) 1st chapter and synopsis critique
2) One copy of any e-book off her Samhain backlist (http://samhainpublis…/crystal-jordan)
3) One copy of IN THE HEAT OF THE NIGHT (print or electronic, winner's choice)
Jeannie Lin:
1) a first chapter critique, any genre
2) an official BUTTERFLY SWORDS souvenir charm
Elise Logan: Winner's choice of any e-book from her backlist
Marguerite Labbe:
1) A critique of an m/m story
2) Signed copies of her m/m vampire trilogy MY HEART IS WITHIN YOU, HAUNTED BY YOUR SOUL and OUR SACRED BALANCE
Seeley DeBorn:
One jar of home made body or face scrub, customized to the winner's preferences and skin type.
For example: Orange Spice Oatmeal, Coffee-Cocoa, Citrus Salt, Lavender Mint, Honey and Flax
Sela Carsen: a copy of her e-book CAROLINA WOLF
Hailey Edwards:
1) a copy of her sweet fantasy romance ebook, EVERLONG.
2) two five dollar MBaM gift cards
Charlotte McClain:
Copy of her two e-books, LOVE TO DECLARE and ROCK STAR'S RETREAT
Cynthia Justlin: (Golden Heart Finalist!) Proposal Critique (3 Chapters and synopsis)-any genre other than erotic
Lainey Bancroft:
1) signed copies of her contemporary romance, THE TROUBLE WITH TESSA and her chick lit romance COZUMEL KARMA
2) Proposal critique (3 chapters and a synopsis) any genre except Steampunk
Tina Burns-Publisher-Liquid Silver Books:
1) a critique of 1st 3 chapters & synopsis
2) 3 be-book prizes for 3 different winners! Winners choice of any one e-book download from LSB library.
Mima:
Winner's choice of one e-book from her backlist-see her website for booklist.
Taneasha: handmade jewelry by our own Taneasha-details to come!
Barbara Sheridan:
1) Winners choice of one e-book from her backlist-see her website for booklist.
2) Critique of up to 20 pages of either M/M, or M/F romance or erotic romance in various subgenres (contemporary, historical, paranormal or suspense/mystery)
David Bridger:
A copy of his ebook BEAUTY AND THE BASTARD
Victoria Janssen:
3 print books TBA (whatever she finds at the RWA Conference)
Gemma Halliday:
Signed copy of SCANDAL SHEET
Jennifer Leeland/Jennifer McKenzie:
1) copy of her e-book MARKED FOR PLEASURE (Kindle version available upon request)
2) copy of her e-book MARKED FOR DESIRE (Releasing June 29th) (Kindle version available upon request)
3) copy of her e-books The Command Series (Trilogy)
4)copy of her BDSM e-book series (3 from TWRP and 1 from Samhain)
Emily Ryan-Davis:
1) Critique of novella-length (up to 30k) manuscript; any time period, m/f, menage, f/f (m/m not her area of expertise)
2) signed print copies of her anthology: MATING CALL, DRAGON DANCE and DRAGON BOUND
3) e-book copy of CHANGING THUMBELINA
Sabrina Darby:
1) Signed copy of her erotic historical novel, ON THESE SILKEN SHEETS
2) Critique of first thirty pages of any Regency (erotic or non erotic fine, but m/m outside my area of expertise)
Alina Morgan:
1) copy of her e-book The Twilight Deception
2) copy of her e-book The Shadow Unveiled
Debbie Mumford:
1) Critique of a synopsis
2) Winner's choice of any e-book from her back list.
Kimberly Troutte:
1) copy of her e-book SOUL STEALER
2) copy of her e-book CATCH ME IN CASTILE
Sasha Devlin:
1 pair of hand made writing mitts or gloves-style and color TBD by the winner
Julia Knight
Winner's choice of one copy of any of her books available in e-book format
Sinful Intentions by Amy Redwood, a novel-length paranormal romance set in sunny New Zealand now out from Ellora's Cave.
A jilted bride, a wolfishly sexy stranger, one sinful attraction under New Zealand's sun.
When Katherine finds out her fiancé cheated on her, her heart is bruised. With a mission to get her life back on track, she takes the first flight to Auckland, New Zealand. And bumps heads with a sexy stranger. Their attraction is instant, powerful and undeniable. Taking a vacation from being a good girl, she succumbs to this sinful stranger who pushes the limits of her sexual needs as he explores every inch of her body. No strings of course.
Trent seduces her…in a bed, at the beach, in a truck, against the wall…until the wolf within him lifts its head and pays attention. Suddenly, after a tiny bite, it's everything but no-strings.
Read more at Ellora's Cave.
Or enter the contest to win a free copy between July 23 to July 29.
So, I have a wedding to go to tomorrow, and I've known about it for about 6 months now. It's an outdoor wedding. I have nothing to wear. The only dress I own is a heavy black stretch velvet with a beaded bolero jacket. Very cute and very hot. So I decided about a month ago to see if I could find a cute summer dress on clearance. I've put off shopping until today after work.
I *hate* shopping for clothes with a passion. I'm 5'1″, 160 pounds all centered right at my midsection. I've heard that women are supposed to have waists, but I haven't had one in 30 years. So I went to a dress shop (called The Lady's Frock) that is having a summer clearance sale. Tons of cute dresses if you are 5'9″ and weigh 120-150 pounds and have buckets of money to spend. A sales woman in pearls and heels corners me and asks if I'm looking for anything special. I feel positively dowdy and stunted and sweaty compared to her cool tall elegance. At that point I reminded myself that the next time I went dress shopping (maybe in another 50 years or so) to go home and dress up before entering a snooty boutique.
Anyone else ever felt that way?
Yeah, so I tell her I need a dress for a wedding this weekend and I can't possibly spend more than $75.00, and would prefer to keep it below $50.00. I expected her to turn up her powdered nose and tell me to go find Walmart. But she was gracious, and obviously knew her business. She determined my size with a quick glance, said she didn't think they had anything suitable in their petites section, but there were several things I might like to try right over here. Before I knew it I was in a dressing room with half a dozen dresses that I probably would never had tried on my own. A couple were just plain hideous. Large floral print with no shape at all. Can you say muu muu? The sales lady stayed in the bedroom sized dressing room to help me change and she agreed they did nothing for my figure. One was nice but I didn't care for the color, a pale salmon/melon orange. My olive complexion looked terrible. That left me with two to choose from; a black raw silk that looked sort of futuristic, with the fabric cut at strange angles and pieced together. It actually looked pretty nice on, although extremely daring with a plunging V neck in front and back, and tight skirt with an uneven hem. More of a cocktail dress than an outdoor wedding dress. I really think if I were going to conference I would have bought it. The price? $79.99 on clearance, down from $249.00.
The other one was a vibrant chinese blue dupioni silk with gores in the skirt that started wide at the hem and narrowed up to the bust. There was pleated fabric criss crossing under the bust which helped to hide my big tummy. The price? $59.99, clearanced down from $329.99. It was so low because the hook at the top of the zipper was bent and the thread eye was ragged. Heck, I can snip that off and replace it in about 10 minutes.
That was the best shopping experience I've had in years. I'm always uncomfortable in fancy places like that, and I hate trying to dress my figure. But I'm pretty sure I'll be going back there!
New from Liquid Silver Books is Beauty and the Bastard by David Bridger.
I have just signed with this publisher and when I did I raved over at Romance Divas about my excitement, and David was warm and supportive.  He's a great guy with a gift for words.
Saul the Bastard is a fallen angel who works as a bounty hunter for powerful urban demon families. Rebecca Drake, a modern day demon princess, is being hunted by dangerous desert demons. When Rebecca's family hires Saul to protect her, they are both unhappy with the arrangement, but before long sparks fly as they try to resist their strong mutual attraction. For the first time in living memory, Saul has someone to love; someone he is scared of losing; someone the desert demons have marked to be their next sacrifice.
I received and completed the Cover Art Request Form from Liquid Silver and am now waiting for an editor to contact me concerning revisions etc. It's just about time for the National Conference (RWA) so it might not happen until after that. Meanwhile I've been writing Glory and Wolf Shadow's story. Poor Glory. She thinks this guy is really hot. Totally smoking. And she's more than willing to have a one night stand with him. But in the morning she needs to find a phone and get back to the real world. She was on her way to the final interview for her dream job when the plane went down, and even a gorgeous stud muffin like Wolf Shadow can't keep her from reaching for her dreams.
(Not that I'm actually published quite yet. My paranormal futuristic romance won't be for months.)
I have been making up stories for as long as I can remember. Some time between junior high and high school I began writing them down in notebooks.  More recently I had begun writing them on a computer. I had considered on and off submitting them to a publisher. But what can I say? I'm chicken.  My friends challenged me to submit the story I was writing for their enjoyment, and I thought, heck, I'm not getting any younger. I'll do it and if it gets rejected, then at least I can say I tried. I regularly read epubbed romance and I'm familiar with many of the epublishers. There were several I could submit to, and I picked a publisher I knew put out well edited quality stories. Liquid Silver has an excellent reputation. I enlisted some friends and acquaintances to do some proof reading for me and sat down to revise the story into something more professional.
So on May 31, 2010, I submitted a query and 3 sample chapters of Sleeping With the Wolf to Liquid Silver Books. I got a nice email back saying it had added to the pile and I should hear something in 4 to 6 weeks.  13 days later I got an email requesting the full manuscript. Really? I was pretty excited, but the first 3 chapters weren't half bad. When they read the rest they would surely reject it. If I was lucky they would give contructive criticism. I figured it would be several months before I heard anything, but 20 days later I got an email saying they would like to publish my book.
Shock. Utter, complete shock. I read the two sentences four times. I jumped up and down. I grabbed the cat and smashed her against me and kissed her round furry head. (she hid for hours after that) After I had calmed down I sent my acceptance.  I received a contract two days later. I have completed and returned a Cover Art Request, and am now waiting for an editor to contact me about editing and revising.
That means the time span from the day of submission to the day I signed the contract was only 38 days.  I don't know if that is a record or not. I don't know how many writers decide to take their writing seriously and less than three months later have a contract with a publisher. I don't think it's because my writing is brilliant. I'm a good writer, but so are hundreds of other people.  I think I was outstandingly lucky.  Maybe they were looking for a story like this and I was the first to submit. At any rate, I am grateful for the chance to be published.
So that is where I am on my journey on the way to be published. More updates to come.
I am brand new to WordPress! I've heard so many great things about it that I can't wait to get started! It may need to wait a little while, though, 'cuz life is busy right now!
As of July 7, 2010 Sleeping With the Wolf is under contract with Liquid Silver Books! I am very excited to be with them. Over the past few years I have read many of their novels and novellas, and I know they put out a quality product. That's why they were top on my list of whom to submit to. I'm sure they will have me hopping doing some edits and revising in the next several months, so I should get as much writing done as possible on Glory's story before I get hit with the edits. The thing is, I'm totally wrapped up in Tracker's story. And between work, weddings, SCA stuff and fiber arts guild demos I have almost no time for the next two months. So little time, so much writing to do. I'll have to cut back on demos if necessary. My writing is my job, now, so that has to come first. Good thing I like writing.