W

elcome to the web home of Maddy Barone, paranormal romance author. I owe a huge debt to the works of various authors I've encountered throughout my life. A book is a relatively cheap way to travel the world and even leave our world for fantasy lands where we can be anyone we want. From chapter books in grade school to young adult books in my teen years to 500 page novels as an adult, books have educated me, given me hours of enjoyment, introduced me to beloved friends, and given my vivid imagination the green light to run wild. As an author, I'd like to give my reader those same things.
If you'd like to get exclusive excerpts and entries to contests, you can sign up for my newsletter by clicking on the pic below!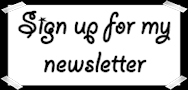 What's going on for Maddy these days?
 

I'm currently writing Wolf's Princess, the last book in the After the Crash series. I had grand plans to have it submitted to the publisher by November 15, but … Well, it's taking me longer than I thought it would to write! But I still plan to have the free novella, Wolf's Lady, available by December 5, 2014.
Wolf's Vengeance, book 6 in the After the Crash series  available now!

Eddie's Prize is available now from Audible.com!
Wolf  Tracker Audiobook is available at Audible.com now!

Wolf's Oath  is available now!
9/28/13: I'm on track to have Wolf's Oath released on October 22, 2013! I received the file back from the editor and have been working on revisions. I'm waiting for the cover art and hope to have something to show off soon. So, it's less than a month now before you can read Connie and Des' story!
8/11/13: Coming up in mid August:  Ellie's Wolf ARC Giveaway Contest! I will be giving away 3 ARCs of Ellie's Prize through my newsletter. If you haven't signed up there is still time to do so! Prizes will be chosen and awarded on Saturday, August 17
6/29/13- Ellie's Wolf released from Liquid Silver Books on
Monday August 26, 2013

!