Home
W

elcome to the web home of Maddy Barone, paranormal romance author. I owe a huge debt to the works of various authors I've encountered throughout my life. A book is a relatively cheap way to travel the world and even leave our world for fantasy lands where we can be anyone we want. From chapter books in grade school to young adult books in my teen years to 800 page novels as an adult, books have educated me, given me hours of enjoyment, introduced me to beloved friends, and given my vivid imagination the green light to run wild. As an author, I'd like to give my reader those same things.
______________________________________________________________________________________
If you'd like to get exclusive excerpts and entries to contests, you can sign up for my newsletter by clicking on the image below!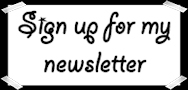 What's going on for Maddy these days?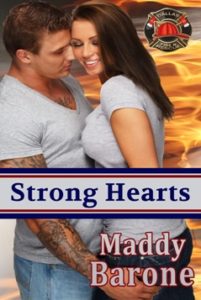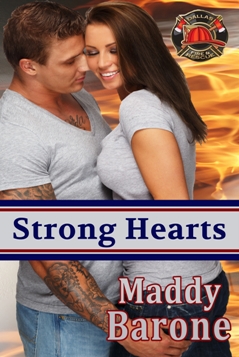 1/17/18
STRONG HEARTS is out!
From the minute big, bad Brutus Gunnison of Dallas Fire & Rescue sees Denise, he falls like a ton of bricks. She is everything the Iraq War vet has ever wanted in a woman: pretty without being frilly, with a great sense of humor and a love of dogs and baseball. Most amazing of all, she's not afraid of him.
Denise Friedlander is busy. Between working thirty hours a week, going to school, and serving in the Texas National Guard, she doesn't have time for a man. And after the way her father ran out on her mom the minute she got pregnant, she is careful with men. But she can't resist Brutus. He's not the handsomest man in Dallas, but with those muscles and tattoos, he's the hottest. Besides, he shows the tenderness hidden under his rough exterior only to her.
But old wounds run deep and when Brutus betrays her trust, Denise walks away. Can they learn to trust again to find their happily ever after?

Victoria's Cat
Daughters of the Wolf Clan 2
Released July 11, 2017
Victoria Wolfe, the only daughter of the Alpha of the Lakota Wolf Clan, has a mind of her own. Her father might put his foot down, but when she wants something, she gets it. And she wants Marty Madison. His calm steady nature calls to her volatile spirit. The fact that he turns into a mountain lion at will doesn't matter to her at all.
Marty Madison has never seen a woman as beautiful as Victoria. Her lush figure and pretty face appeal to him, but what entices him most is her self-assurance. No demure young miss, she faces the world with a steely core of inner strength. Too bad her father objects to him being a mountain cat.
They thought the only obstacle to their marital happiness was her father. They were wrong. An evil empire is rising in the east, one which threatens not only them, but the homes and lives of everyone they love. Marty will need all of his steady calm to survive. Victoria will need all her steely inner strength to hold on. In a world under threat, can their love triumph over adversity?
Buy it NOW at these e-tailers
 Brave Hearts is out!
Isabel Ybarra. A soldier who lost her leg in Iraq.
Dusty Wolfe. The medic who saved her life.
When they meet again in Dallas twelve years later, they're not who they were. Dusty is an EMS with Dallas Fire & Rescue, with dreams of someday having a wife and family. He just needs to find the right woman. Isabel, now the owner of a yarn store, has left her dreams of love and a family firmly in the past. She's happy with the peaceful life she's built, and doesn't want reminders of what she's lost.
Dusty has finally found the right woman, and he refuses to be ignored. Her quiet courage and brave heart are irresistible to him. He will do whatever it takes to win her love. If that means signing up for her knitting class to get her attention, he will. Can he figure out the difference between knitting and purling? More importantly, can he convince her that he is her future?
Released April 28, 2016: Olivia's Mate
Olivia Stensrud, one of the precious daughters of the Lakota Wolf Clan, has lived a charmed life in a world slowly recovering from the nuclear attacks that destroyed technology some seventy-five years earlier. When she is stolen by a feral cat shifter who insists she's his mate, her father, brothers and cousins track her down and take her back.
Kit is heartbroken by her loss. A mate is a rare thing for his kind to find. Her father promised to kill him if he ever came near Olivia again, but how can Kit give up such a beloved prize? Determined to make himself into a fit mate for a Daughter of the Wolf Clan, Kit goes to live with humans to learn their civilized ways before setting off to woo his mate. Will the thin veneer of culture be enough to win her heart? Or will her menfolk drive him off before he even has a chance to court her?
Ellie's Wolf, Wolf's Vengeance, and Wolf's Lady are available in paperback!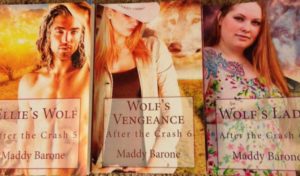 Wolf's Princess, the final story in the After the Crash series, released on

August 3, 2015

!
5/20/15  – I am currently working with the Liquid Silver Books editor on Wolf's Princess. I don't have a release date yet, but I estimate sometime between July 30 and August 30. I'll post it as soon as I know.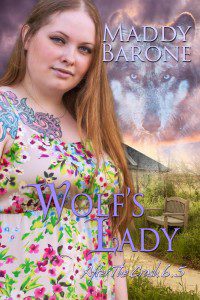 I'm currently writing Wolf's Princess, the last book in the After the Crash series. I had grand plans to have it submitted to the publisher by November 15, but … Well, it's taking me longer than I thought it would to write!
Wolf's Vengeance, book 6 in the After the Crash series  available now!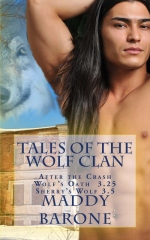 Eddie's Prize is available now from Audible.com!
Wolf  Tracker Audiobook is available at Audible.com
now!