A Reading & Writing Weekend
Here in the States it's a holiday weekend. Labor Day weekend is the traditional end of summer and beginning of the school year. It is also the Gimli Weekend. For those in the Kingdom of Northshield, in the Known World of the SCA, Gimli is a camping event held on Lake Winnipeg in Manitoba Canada. I really wanted to go, and even had travel arrangements made. But I've had some tummy bug for a few weeks (nausea and diarrhea, but let's not go into details) and trying to get to the restroom at the campground every half hour could be … unpleasant. I have a doctor's appointment on Tuesday, and meanwhile, per the nurse's direction, I'm keeping a strict food diary and listing  all my symptoms on a timeline. I am planning a quiet 4 days at home, reading, writing and knitting. Although I hate to miss seeing people, I think a quiet weekend at home will be heavenly.
I've been on a bit of a reading binge lately. Anyone else? With four days off, I should be able to get through at least a few books on my To Be Read (TBR) list and get some writing done on Wolf's Princess. A few weeks ago a Western Romance author I enjoy made a blog post about her upcoming release.  I just about jumped on the table and did a can can dance. I was instantly dying to read that book. I mean, seriously jonesing for that book. The rough draft was complete, and the manuscript was out  with the beta readers, so I figured it couldn't be long before it was out.  I then re-read every book she'd written.  (Does anyone else do that? When a favorite author is going to have a new book out, do you go back and re-read?)
Who is this author?

Ellen O'Connell

.  If you enjoy western romances and haven't read her yet, I strongly recommend her.  Her heroes are to die for, and her heroines aren't too stupid to live. Her ladies are strong (not spunky, or feisty, or silly). If you don't enjoy westerns you might still want to give one of her books a try. It's hard for me to pick a favorite, but it would be either Beautiful Bad Man or Eyes of Silver, Eyes of Gold. If you like Native American romance, Dancing On Coals is excellent too. And there is sort of a sequel to Beautiful Bad Man called Into the Light.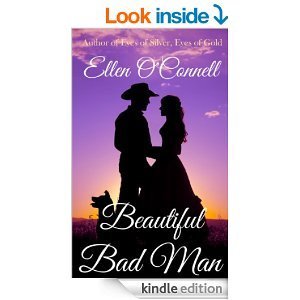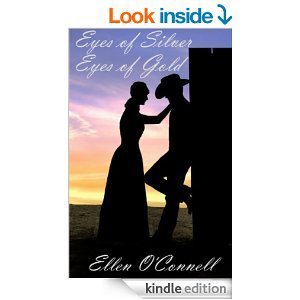 Barnes & Noble:
Amazon:
I hope everyone has a terrific weekend. I'm off now to write a bit in Wolf's Lady. Time for one more love scene (you want to know for sure that Sand is healing, right?) and an epilogue. Happy Reading!