2014: A Recap
Have you ever gotten to the end of the year and felt defeated, like you hadn't accomplished anything? It's how I was feeling. The biggest thing on my 2014 To Do list is a fail. This summer I had no question that by this time Wolf's Princess would be submitted to Liquid Silver Books and on its way to being published. But it's not. I don't even have a good excuse. I'll talk a little more about that in my next post. I am at this moment at 72,800 words, or about the length of Wolf's Glory and Wolf Tracker, and I estimate I have another 20,000 words to write. And they're the best words. Love scenes. Battle scenes. Hate, love, revenge, and … Well, all the plot threads are coming together and the writing is moving along now.  Back to the recap.
A wise person told me recently that when I feel discouraged I must remember the things I accomplished in the previous year. So here goes:
Wolf's Vengeance was published! I've always had a soft spot for Snake, and I wanted him to have a happy ever after. This is his story.
I wrote a Tuesday Teaser about events that took place in Omaha after Quill left, and before Wolf's Princess takes place. Omaha was very different from Kearney and the Clan. I wanted to introduce you to that world, sort of break it to you gently. LOL It became a novella, Wolf's Lady.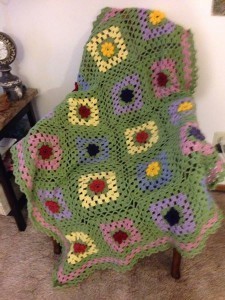 Every year I go to the Reader & Author Get Together in Cincinnati Ohio. RAGT is a fun time. They have literally hundreds of raffle baskets, and me and my friend Jessica always contribute. This year I crocheted an afghan. I think it turned out really well. I was proud of it, and pleased that the woman who won seemed so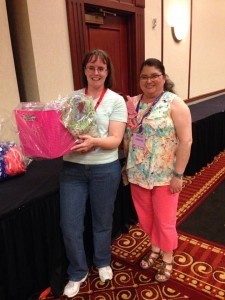 genuinely happy about it!
Also, I helped sponsor a boardroom, and my big thing was to hold a fantasy/historical fashion show. I'm into historical costume and I love showing off the things I've made. Here are my vict– uh, volunteers wearing some of the costumes you might see in a fantasy or historical novel: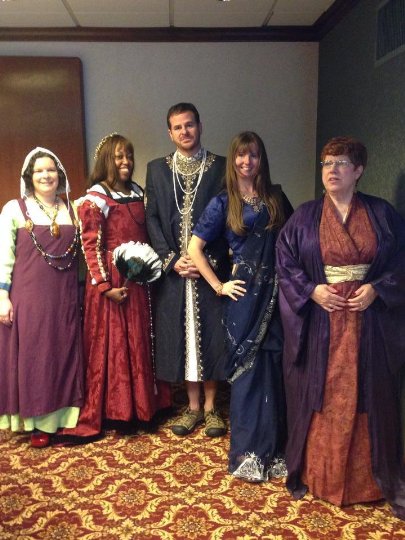 Left to right: Author Tatum Throne in Viking, Author Ty Langston in 16th Century Florentine, Paul Tyler in Early 20th Century Indian coat, Author Paige Tyler in an early 20th Century Indian Sari, Reader Marilyn Mandalis in 16th Century Japanese.
I had my very first Facebook Party. I did not know what to expect but everyone who came was friendly easy to chat with, and I had a lot of fun. I might do another one when Wolf's Princess is finally released.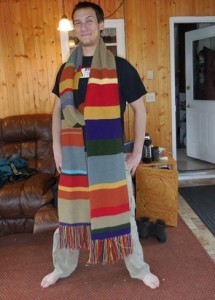 I also finished knitting a Dr. Who scarf I began in 2012! This young man won a bunch of yarn in a raffle but had no use for it. He gave it to me and I brashly promised to make him a Dr. Who scarf. He was patient, and in November I finished it and gave it to him.
There. Those are some of my accomplishments from 2014. Now I can set my face forward to 2015!  I hope you can look back on 2014 and pick out a few things that you are especially proud of. Happy New Year!