Giveaways, Writing, Knitting
In other words, an update! I suppose I could break this up into a couple of different blogposts, but it's summertime and everyone is busy, so I'll try to keep this short and sweet.
I'm continuing my monthly giveaways.  I really enjoy sending out boxes of goodies. These giveaways are open to those who receive my newsletter. Sometimes they are "grab bag" giveaways, where people enter to win a prize sight unseen. Sometimes it's a specific prize or set of prizes. Last month's giveaway was a grab bag. The lucky winner was Nichole from Michigan and this is what was inside her box: 2 full size paperbacks, a couple of short stories, earrings and a pearl ring, magnets, bookmarks, pens, and other swag from writers.
I have August's giveaway ready to go. It will also be a grab bag, but one thing I know will be in it: This hand knit shawl/scarf. I've been working on it all summer, and now it is finished and ready to go around someone's neck just in time for the cooler mornings ahead. See? My cat Merry stood guard over it while it dried.  If you would like a chance to win this shawl plus other great prizes, you can sign up for my newsletter.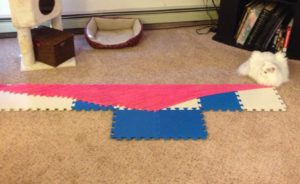 I am currently working on my contemporary novella for Paige Tyler's Dallas Fire & Rescue Kindle World. I am LOVING Dusty and Isabel! It comes out in mid October. Isabel owns a yarn shop with her sister, and the shop colors are fuchsia and black. Dusty, in a desperate attempt to catch Isabel's attention, recklessly signs up for her Learn To Knit class.  In the first class the students learn to knit a dishcloth. Dusty swaggers in to class, confident that he can master knitting without any trouble. He slinks out, convinced that knitting was invented by demons out to drive humans crazy. In the second class, he knits this hat. I am considering writing the pattern up and including it at the end of the book. I'm not sure about that, though.
Do you think it would be appreciated by readers? Would most readers even care? Maybe it would be better to include a link to my website where I could post the pattern?
What are your thoughts about that? Please leave a comment, I would really like to know.
I hope your summer is going well. Only a few weeks until the kids are back in school. I come from a large family, and on the first day of school, my mom put out the flag. She said it should be a national holiday!  LOL
Happy Reading!