Strong Hearts Available NOW!
Yep, Brutus and Denise are ready for you to fall in love with them. Brutus, so big and strong. Denise, so steady and stubborn. They are perfect for each other. They have a little trouble finding their happily ever after, but they eventually do. I hope you'll find their journey satisfying!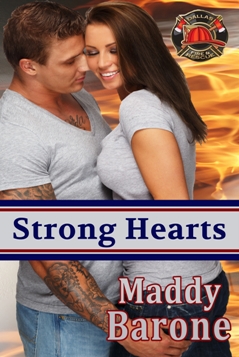 From the minute big, bad Brutus Gunnison of Dallas Fire & Rescue sees Denise, he falls like a ton of bricks. She is everything the Iraq War vet has ever wanted in a woman: pretty without being frilly, with a great sense of humor and a love of dogs and baseball. Most amazing of all, she's not afraid of him.
Denise Friedlander is busy. Between working thirty hours a week, going to school, and serving in the Texas National Guard, she doesn't have time for a man. And after the way her father ran out on her mom the minute she got pregnant, she is careful with men. But she can't resist Brutus. He's not the handsomest man in Dallas, but with those muscles and tattoos, he's the hottest. Besides, he shows the tenderness hidden under his rough exterior only to her.
But old wounds run deep and when Brutus betrays her trust, Denise walks away. Can they learn to trust again to find their happily ever after?