The Reader & Author Get Together 2013
It was a long drive from North Dakota to Ohio, but I hate to fly, so it was worth it. My friend Jessica went with me again this year. I had a fantastic time at the RAGT, as I always do. And as I always do, I forgot to take many pictures. I always have such good intentions but you know what they say about the paving on the road to that hot place 🙂
We arrived on Thursday in the late afternoon and one of the first people I saw was Paige Tyler. She and her hubby Paul have been super nice to me each of the three times I've gone to the RAGT. They saved a spot for us at their table and we sat with them for every meal. I didn't get a pic of them (darn it!) but here is one of me and Paige and Brenda Wheeler, a member of Paige's street team. Brenda was a fun lady and I'm glad I had a chance to get to know her. Her husband Don joined us, and I have to say, he's a great guy to accompany his wife to a romance readers convention. That's true love!
On Friday morning I went down to the Liquid Silver Books Boardroom to meet Monette Michaels and Linda Eberhart from my publishers, and then Paige grabbed me to help stuff the 500+ goodie bags. It was surprisingly hard work, but it was fun. Here is a pic of my friend Jessica with a bag. isn't that pink leopard print cute?
That evening I was one of the authors signing.  I'm not including that pic, because I look as dumpy as an overweight hippo stuffed into a blouse that showed every bulge. But I had fun! I sat beside Anara Bella, who was so friendly she helped settle my nerves. I got to see Robyn Bachar and her friend Diana. They are so much fun!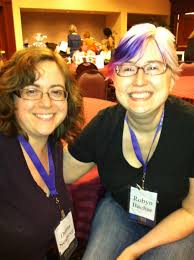 And I got to meet up with Jessica Bowes, who had won the shawl I knit for a blog hop prize. Isn't that cute on her? She and her mom look like sisters, not mother and daughter.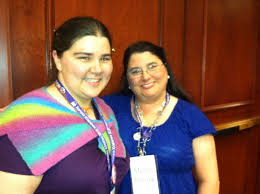 I also got to have a 20 minute met and greet in the LSB boardroom.



Jessica and I both won two raffle baskets, which rocked, because Jessica and pretty much stuffed one bag with her name. She REALLY wanted that set of books!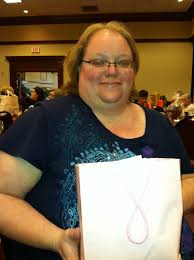 On Saturday I got to hang out with writing partners Christine Lawrence and Steph Smith. Since they live a couple of hours away from each other they don't get the chance to actually sit down together in person. They were kind enough to let me interrupt their work for me to visit with them.
There were so many other people I enjoyed seeing and talking to, but of course, I didn't get pics.
It was a busy, busy, fun, fun weekend! Jessica and I got home around suppertime on Monday. I'm already looking forward to next year!