Tuesday Truth 5/12/15
No teaser this week! I had a minor surgery in the ENT's office on Friday and the time I'd planned to spend writing I spent sleeping and sewing instead. Would you like to see what I've been sewing?
I'll be holding a historical fashion show at Lori Foster's Annual Reader & Author Get Together next month. Most of the costumes are ones I made years ago. But there is one that I'll be making from scratch, and it is the most elaborate and tricky thing I've ever made: a Victorian bustle dress from the skin out. Chemise, drawers, corset, petticoat, bustle, polonaise, skirt and hat all have to be completed within the month. It's a challenge, but I'll do it.  So far I've completed the chemise and split crotch drawers, and the under skirt. Next up is the bustle and petticoat.
I actually broke down and had the corset made for me by a Facebook friend, Minx. I  simply don't have enough time to make it myself. You can find her work in her Etsy
Shop. She does marvelous work, with great attention to detail, out of quality materials.  The corset in the pics  below is the one she made me.
   
And here is the yellow underskirt that will go over the bustle and under the polonaise.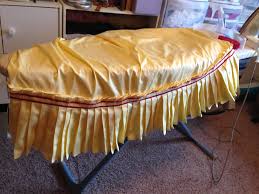 I can't wait for this to be finished! It will be elegant and beautiful, and just my size. Will you be going to RAGT15? I need models for the costumes! Contact me if you might be interested in being a model!