Tuesday Truth AND Teaser 7/16/13
Yes, today I have one of each! The Truth is that the Mid Summer Dream Men Blog Hop is this weekend, Friday July 19-Sunday July 21. There are going to be great prizes, so drop in at www.JustRomance.me to come along on the hop!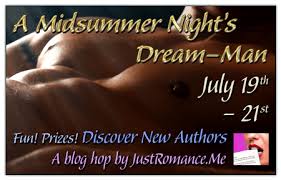 And I have a teaser from Des and Connie's story. This snip is from chapter 2. It's visitation night and Connie would rather be anywhere than here, but she feels obligated to stay. She's leaning against the wall beside the kitchen door, watching the flirting and maneuvering with distaste. Enjoy!
Katie, the blonde who shared Connie's apartment with Kathy, was at the nearest stove. She laughed loudly and playfully slapped the shoulder of one of her current boyfriends. Connie mentally shook her head. Katie was one of the women who enjoyed all the male attention. She and JaNae loved flirting with the men who tried to outdo each other in their lavish gifts and compliments. Katie's voice rose above the low murmur of voices.
     "I need the little girl's room," she told the six men hovering around her, flashing them a flirtatious smile. "I'll be right back. Don't any of y'all fight while I'm gone, hear?"
     She detached herself from the cluster and gestured for Sammie to join her. The younger woman jumped up and abandoned her admirers without a backward glance. Katie paused to grin at Connie, who raised one brow. "Why do you flirt with them like that?" she asked.  "And why are you using that southern accent? I thought you're from Minnesota."
    Katie's cheeks turned pink, then her grin flared bigger. "It's fun."
     "Are you ever going to actually pick one and marry him?"
      Katie shrugged. "Someday, I guess I will. But I'm enjoying myself too much to settle down with one yet." Her hand smoothed down the curve of her waist to her wide hip and down to her thigh. "After twenty-eight years of being too fat to attract a man it's a rush to have dozens of men fighting over me." She winked and grabbed Sammie's arm to tow her through the kitchen door toward the outhouse in the yard.
     That was one thing Connie did like about the men here. They didn't judge a woman solely by her slender body. They liked big women even better than skinny women, but every woman, no matter her age, looks, or size, found herself the object of blatant admiration.