Mid-Summer Dream Man Blog Hop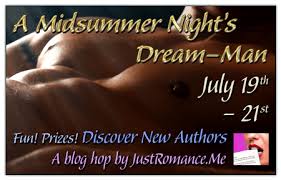 Welcome to Maddy Barone's stop on the Midsummer Night's Dream Man Blog Hop! If you've fallen off and need to hop back on, click here.
      I don't know what it's like where you live, but it's nasty hot here in North Dakota. Yes, I know a lot of you are laughing your butts off at me, but hey, I hate 90 degree weather! It makes me cranky. I don't want to cook, or clean, or do anything except lay around. And maybe read. So if you're like me, a blog hop where you can win books and gift cards to book stores is just the thing. I hope you're having fun!
     The prize I'm offering for the hop is a free download of any of my After the Crash titles. You can learn more by clicking the Books tab above. Oh, and I should mention that the first book (digital format of your choice) in the series is FREE at the publisher at the moment!  http://www.lsbooks.com/sleeping-with-the-wolf-p507.php  And the other books in the series are on sale there too.
     I'm also offering an additional prize to someone who leaves a comment on my blog. If you enjoy listening to audio books you might want to enter this contest, since my prize is a download of the audio version of Sleeping With the Wolf. To receive the prize the winner will need to setup an audible account (which can be immediately deleted if they choose) or have one already.  The hero, Taye, is my idea of a hot midsummer night's dream man! He's a hot, possessive, protective, jealous Alpha werewolf with a sweet streak where the heroine is concerned. I will be drawing a name on Sunday night in the chat room.
     Any subscribers to my newsletter who enters is automatically entered twice to win. My next Newsletter Drawing will be in August, for an ARC of my upcoming release, Ellie's Wolf. So if you're interested in small contests and getting excerpts before anyone else, feel free to sign up for my newsletter. Thanks for stopping by, and good luck!