Wolf's Princess News!
I am on the road with limited internet access, but I'm sitting in my hotel room pecking away at this tiny keyboard to bring you good news!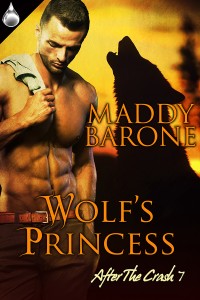 SEE THE GORGEOUS COVER ART????
AND GUESS WHAT? WOLF'S  PRINCESS RELEASES AUGUST 3!!
I am soooo excited. Wolf's Princess is my longest and most intense book yet. I honestly think (I hope I don't sound big-headed here) it's the best book I've ever written. There are a few giggles here and there –wait until you read the bit where Sky realizes he is wearing his necktie and nothing else.  Not only do Rose and Sky find their happily-ever after, but Stone and Sara learn to love one another, and a couple other wolves find their ladies in Omaha. Are you anzio0us to read it? Can't wait for August 3? Well, read on.
I will be having a contest in mid-July through my newsletter for some great prizes including a $50 Amazon gift card, a pair of sterling silver earrings, and five ARCs of Wolf's Princess. If you haven't signed up yet for my newsletter, there is a link on the right. More details to come soon!