FREE! Wolf's Oath Is Free During August!
AFTER THE CRASH
When a plane crashes fifty years in the future, the survivors learn:
1. Nuclear war destroyed the world they knew.
2. Plague has reduced the female population to a pitiful few and every woman is worth her weight in gold.
3. Werewolves are more than mere legend and they want mates.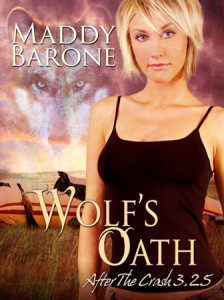 Wolf's Oath Is FREE through August at most online etailers!
You know, I really like Connie. She was the co-pilot of the plane that jumped forward in time and crashed in 2064. She was a Marine fighter pilot in Iraq, so she's a strong, take-charge type of woman who can handle herself in any situation. She'll make hard choices that will benefit the survivors she believes are her responsibility, even if it's not what she wants. And she's not sure she wants to tie herself to this grim-faced wolf. Yeah, Des is hot, but he's all about protecting her and she's used to carrying her own weight.
      Although this story takes place in the middle of the series, I think you can pick it up without reading the previous books. And it's free, so why not give it a try?