Tuesday Truth 10/22/13-Wolf's Oath is here!
Yes, Wolf's Oath is out and available at some retailers!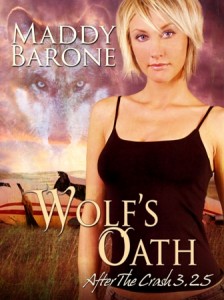 And will be at Barnes & Noble, the iBookstore, Kobo, Sony, etc in a few weeks. If your reading device requires .epub or .pdf, and you don't want to wait to read the book, you can buy it at Smashwords in the format of your choice. I am very excited about Connie and Des' story. Did you wonder why Connie went from declaring she would never marry to showing up at the den with Des for the wedding ceremony? What happened to change her mind? Find out in Wolf's Oath.
Connie Mondale, co-pilot of a plane that crashed in a future where women are rare, has no intention of being forced into marriage, thank you very much. A former fighter pilot, she's accustomed to being in charge. But leading two dozen undisciplined women is harder than flying missions over Iraq and Afghanistan. Scarier, too, with woman-hungry men outnumbering them two hundred to one, and demanding marriage. When Des, the grim-faced werewolf who is always there for her, offers to share the load, how can she refuse?
Des Wolfe knows Connie is his mate. When she refused him, he tried to settle for being her friend. But when an opportunity comes to have her for his own, he grabs it with both hands, determined to have her love. If that means taking on a whole house full of women and making them his Pack, he'll do it. There is no price too high for Des to pay to have Connie for his mate.
Can Connie give her heart to a werewolf, or will Des have to settle for only her body in his bed?